In this tutorial, we will be discussing how to Install and enable UiPath Extension for Firefox. Uipath has different types of browsers which help you to automate your web workflow much easier than before. This extension should be enabled before performing web automation. You can also check:
What is UiPath Extension For Firefox
Uipath Extension for Firefox let you perform automation on your firefox browser. This uipath extension will help you to perform web automation such as data scrapping, data entry, and other use cases.
Without this extension, you can't perform web automation. With the help of this extension now can directly automate your process in the browser itself. All these extensions are provided by uipath to make your automation workflow much more efficient and productive.
Table of Contents
How to Install and Enable UiPath Extension in Firefox
1. Open UiPath Studio
2. Navigate to UiPath Extension
After opening UiPath Studio, Go to Tools. In the tools, section click on Extension. Now you can see some extensions, find the firefox extension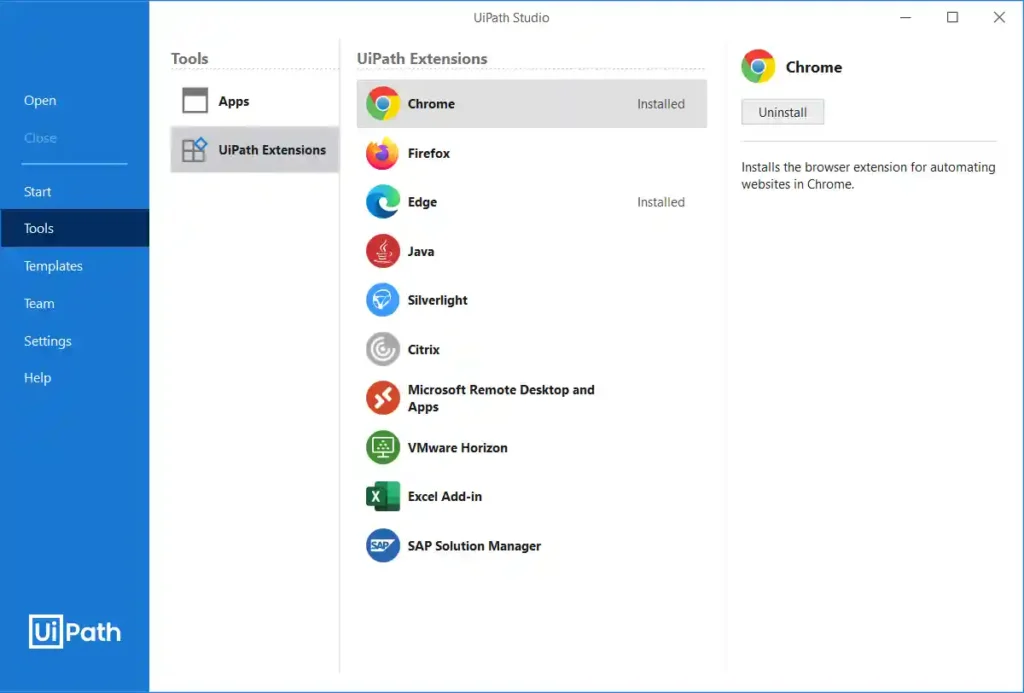 3. Select Firefox and Install
After Finding your extension click on it and press the install button to install this extension.
Now you will be automatically navigated to the firefox browser, in which you have to click on enable the extension to enable this extension on your browser.
How do I add a UiPath extension to Firefox without a studio?
You can also install this extension without uipath studio. To do this without any errors you can follow the below steps:
Open your Firefox Browser on your system
Go to setting -> Manage Extensions. Check whether you have installed it or not. If you have installed make sure to enable this extension.
If you have not installed this extension then go to the Firefox store (Add-on Store)
Search for "UiPath Extension". and click on Install.
UiPath Firefox Extension Not working Problem Fix
Now we will check some of the problems caused to some users while using this extension. To fix these issues you can check the following steps are properly done:
Make sure that you have enabled this extension. To check to go to browser settings, under setting go to manage extension. Now check whether you have enabled it or not.
Check whether you have installed this extension. If you have not installed then you can check the previous section explaining how to install
Uninstall the current extension and reinstall it. Now restart your PC and check again.
Conclusion
UiPath provides these extensions to make your automation process easier. These extensions help you in the web automation process. We have also discussed some problems that can occur while installing this extension or after installing this extension. Till you have not solved your problems then you can reach us through the comment section.
you can also check, UiPath Official
Faq on UiPath Extension Firefox
How do I add the UiPath extension to Firefox?

Adding UiPath Extension to Firefox can be done in two ways: using UiPath Studio or directly installing it from the Firefox Add-on store. To add the extension via UiPath Studio, go to "Tools" -> "Extension", select "Firefox" and click "Install".

How do I find my Firefox UiPath extension?

To find your UiPath extension in Firefox, you can navigate to Setting -> Manage Extensions. There you can enable or disable your extension easily.