In this blog post, we will discuss UiPath Certifications and all the information regarding UiPath Certification, such as its benefits, Cost, ease or not, and whether it is worth it or not. We will be going through the entire section so that you can take UiPath Certification without any doubt.
This will be also helpful for any fresher or new to RPA, as they are newborn children to this RPA world and learning new things.
As an RPA Developer and based on my own experience, I highly recommend pursuing this Certification. Which can really benefit you in your RPA career and also improve your knowledge in UiPath.
Table of Contents
Introduction
If you're a developer or someone who wants to start a career in robotic process automation (RPA), then UiPath has got you covered. They offer a bunch of courses and certifications that will teach you how to rock their tools and tech like a pro.
But why stop at simply learning? With UiPath Certificate, you can boost your resume, improve your skills, and set yourself apart from other RPA enthusiasts.
It's definitely worth putting in the effort. Here we will discuss all the different kinds of certifications UiPath offers, how they can benefit you, and some handy tips for nailing that exam.
What Are UiPath Certifications
UiPath is a firm that specializes in robotic process automation (RPA) software solutions. UiPath Studio, their main tool, enables customers to develop automated processes to simplify repetitive chores and free up personnel to concentrate on more essential work.
UiPath provides a number of certifications to people and organizations that wish to demonstrate their competence in developing and maintaining RPA systems using UiPath technologies in order to assure the quality of their goods and services.
Based on the Certification type each certification has its own cost (UiPath Certification Cost) for the exam.
Types of UiPath Certifications
UiPath offers three levels of certification for individuals seeking validation of their skills using the company's software platform. These are the UiPath Certification Lists:
Associate Level (UiPath Certified RPA Associate (UiRPA)– Entry-level exam assessing fundamental knowledge of RPA concepts and hands-on experience with UiPath Studio.
Advanced Level (UiPath Certified Advanced RPA Developer (UiARD) – Intermediate-level exam testing advanced technical abilities, including process analysis, exception handling, and integrator skills.
Expert Level (UiPath Certified Automation Business Analyst (UiABA) – Advanced-level exam evaluating proficiency in architectural best practices, security management, and scalability techniques.
Why Pursue UiPath Certification
There are a variety of reasons why someone would decide to pursue UiPath certification. Among the explanations might be:
To be acknowledged for their proficiency with RPA software from UiPath
To boost their earning potential by showcasing their command of the UiPath platform
To improve their capacity to compete for jobs and endeavors that call for proficiency with UiPath technologies
To keep up with the most recent RPA technology advances, to network with colleagues and business leaders within the UiPath community, and to cooperate with them.
Obtaining a certification in UiPath is a great way to vouch for one's skill set and show that they are proficient in the RPA field.
Benefits of Getting UiPath Certification
The following are a few advantages of earning a certification:
UiPath certificates are worldwide acknowledged and recognized, therefore having them on your resume or LinkedIn profile will help you stand out when applying for jobs that need RPA and UiPath knowledge. They represent your credentials in the eyes of employers everywhere.
Increased Employment Opportunities: Many employers prefer employing certified employees since it demonstrates that you have completed in-depth training, passed exams, and have real-world experience using UiPath. Your chances of obtaining better employment prospects, including those with greater earnings, rise if you have a certification.
Career Advancement: Becoming certified involves acquiring fresh abilities and methods that can enable you to excel in your existing occupation or aid you secure promotional prospects while seeking out alternative job options. This expanded know-how and expertise can lead to enhanced earnings possibilities.
Collaboration and Networking: As a member of the UiPath community of certified professionals, you have access to special events, webinars, online tools, and networking opportunities that let you gain knowledge from other RPA experts, share ideas, and get inspired to develop fresh strategies and innovations.
Stay Competent: UiPath regularly updates its platforms and introduces new features. Keeping up with these updates and upgrading your skills in accordance with them is essential for success, and obtaining certification guarantees that you stay abreast of the newest trends and best practices in the RPA industry.
Higher Earning Potential: Due to a stronger perception of value by consumers and employers, certifications often translate into higher wages than non-certified peers in comparable roles.
Is UiPath Certification Worth It?
Yes, UiPath certification is definitely worth considering because it offers numerous benefits and helps professionals stand out in a highly competitive job market.
Earning an UiPath certification displays proficiency in Robotic Process Automation (RPA) and indicates a commitment to keeping ahead of industry trends.
This skill augmentation raises the probability of obtaining profitable roles inside organizations and allows professionals to demand greater wages as a result of their distinctive qualities.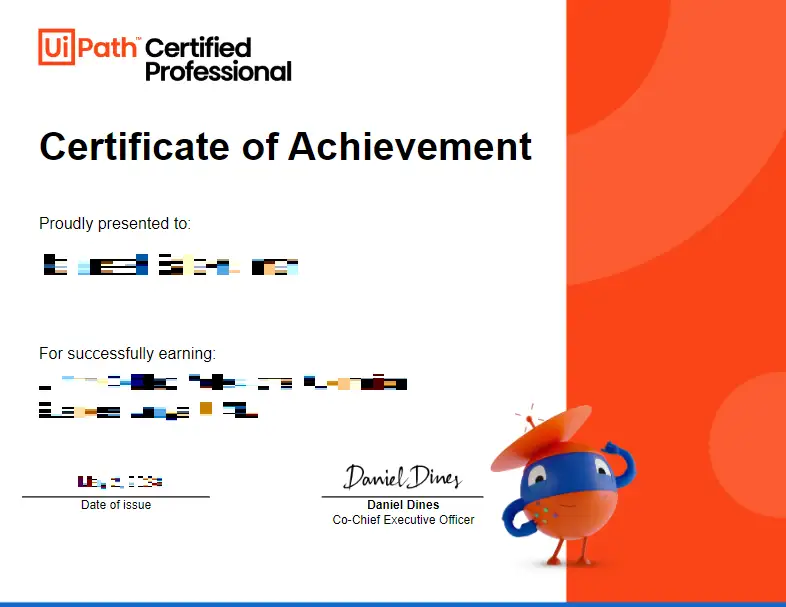 Aside from financial benefits, this certification fosters creativity, innovation, and problem-solving skills, making it an excellent opportunity for self-improvement and lifelong learning.
Furthermore, this certification provides individuals with hands-on experience and practical knowledge, allowing them to implement effective solutions that drive results across a variety of industries.
Overall, seeking this certification is a wise move for anybody serious about expanding their skill set and advancing their career.
How to Download UiPath Certificates
UiPath Certification Download is easier than you think.
To download UiPath certificates after completing your training course, follow these steps:
Log in to your UiPath Academy account using your email address and password.
Click on the 'Certificates' tab located on the left sidebar.
Find the relevant certificate under the list of completed courses. You will see a button labeled 'Download'. Click on it.
Your certificate will now start downloading automatically. If prompted, select a location to save the file.
Once downloaded, you can view or print your certificate directly from your computer.
Frequently Asked Questions: UiPath Certification
What types of questions are included in UiPath certification exams?

In UiPath Certification Exam following questions can be expected such as Multiple Choice, Simulation-Based and drag and Drop

How long are my UiPath Certifications valid?

When do I receive the UiPath Certification results?

After taking the UiPath certification exam, candidates will receive a provisional score report with their score and pass/fail status. The score report is printed at the testing center if the exam was taken there, while online candidates can access their report through their Pearson VUE account after 24 hours. Successful candidates will receive a welcome email with instructions on how to access their digital certificate and badge.

How do I schedule my UiPath Certification exam?

UiPath certification exams can be taken at secure Pearson VUE test centers worldwide or remotely proctored exams through OnVUE. Exams are offered in English and Japanese and can be scheduled and paid for through Pearson VUE, with vouchers accepted as payment.
Conclusion
A wonderful method to further your robotic process automation (RPA) career is to enroll in the UiPath Certified Professional program. This esteemed certification program gives you international recognition, boosts your professional standing, and enhances both the effectiveness and enjoyment of your work.
By earning this certification, you exhibit your knowledge and dedication to promoting RPA technology. Take advantage of this chance to further your career!
Also refer, UiPath Certifications