If you have reached this page, then surely you are about to take or plan to take UiPath Certified RPA Associate (UIRPA) Certificate. While taking this certificate you may have different thoughts such as is it worth or not, Cost, benefits, is it easy or not, and much more.
This blog post will go through a complete overview of UiPath Certified RPA Associate Exam Preparation, Requirements, Practice Questions, Syllabus, Cost, and Salary. This will be a Completed guide for your UiPath Certificate Exam.
This entire blog post has been created based on my experience of taking the certification to help you prepare more efficiently for your UiPath Examination than I did.
| Exam Details | Description |
| --- | --- |
| Certification | UiPath Certified RPA Associate v1.0 (UiRPA) |
| Exam Difficulty | Easy [ Compared to others] |
| Pre-requisite Exam(s) and/or Certification(s) | UiRPA is strongly advised for people interested in earning the UiPath Certified Advanced RPA Developer (UiARD) Certification, even though it is not a prerequisite. |
| Exam Duration | 90 minutes |
| Passing Score | 70% |
| Exam Fee | $150.00 |
Table of Contents
1. Introduction
UiPath Associate Certification is one of the basic Certification Exam that UiPath provides. Anyone can take this certification who wants a career change or freshers to move on to RPA Jobs.
Since this certification is the basic certification, there are no prerequisite requirements to take this exam. This certification will be a good start in the RPA field.
2. UiPath Certified RPA Exam: Overview
The UIRPA certification is intended for anyone who wants to demonstrate their knowledge of robotic process automation (RPA).
The foundational abilities needed for jobs like RPA Developers, Solution Architects, and RPA Architects are validated by this qualification.
Possession of a UIRPA certificate shows competence in designing straightforward automation solutions and conducting efficient process analysis.
As a result, it provides a strong basis for certifications at a higher level. Entry-level RPA practitioners are strongly advised to acquire higher-tier certifications, although experienced developers with prior expertise can choose to do so.
Junior RPA professionals, business analysts, accountants, fresh graduates (Freshers), and anybody interested in starting an RPA career are some important target markets.
2.1 Details about the exam
As you know this is the basic certification exam that uipath provides. You can take this exam Offline or Online.
In offline mode, you have to register and you will be provided with the nearest center where you have to go and write your exam. In Online mode, it is conducted by "Pearson" where the exam is strictly monitored and can be written at home or in a convenient space.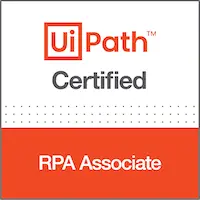 In online mode, you should follow the requirements which "Pearson" mentions and a good network connection.
There will be a total of 60 questions in the exam. The passing mark to get this certification is 70%
2.2 Exam Structure and Format
A variety of question styles, including drag-and-drop, multiple choice, and fill-in-the-blank, are included in the UiPath Certified RPA Associate test. All portions of the exam must be finished in one and a half hours (1.5 hrs).
The assessment consists of the following elements:
Basic RPA Knowledge (15%)
Process Discovery & Analysis (30%)
Designing Basic Automation (45%)
Robot Management (5%)
Security, ethics, and compliance (5%)
2.3 Prerequisites for taking the exam
As this certification is the first and basic certification that uipath provides, there are no prerequisites for taking this exam. But you should need good knowledge of the following topics or else you will not pass the exam.
Robotic Process Automation (RPA) fundamentals
UiPath Studio
Workflow design
UiPath Orchestrator
UiPath automation best practices
Programming concepts (recommended)
Practical experience with UiPath Studio
Completion of the UiPath RPA Developer Foundation Training.
2.4 Exam registration process
To register for UiPath Certification Exam, you can follow the below steps:
Go to UiPath Certified RPA Associate (UIRPA) Exam to access the UiPath Certification page.
Click on the "Register for Certification" button
Use your UiPath Academy login information if you already have an account. Create an account if you don't have an UiPath Account.
Select the UiPath Certified RPA Associate test after logging in, then click the "Register" button.
Select the day, hour, and language of your selected exam.
Give your contact and payment details. The exam costs USD 150 (local variations in pricing may apply).
You will get a confirmation email with details on how to access the exam on the designated day and time after completing the registration procedure.
Before signing up for the test, it is advised that you thoroughly read the exam policies and regulations on the UiPath Certification website.
2.5 Exam fees
UiPath Certified RPA Associate Cost is about $150 per exam. That means if you fail the exam or you would like to rewrite the exam then you have to pay $150 again to register for the Exam.
There are some discounts on the Exam fees, to get a discount on UiPath Exam you can check, UiPath Discounts.
3. UiPath Certified RPA Associate Exam: Preparation
Now you have an idea about this certification, let's go through how you can prepare effectively for this certification exam so that you get passed on the first attempt itself.
To clear this exam on the first attempt you should need good knowledge of the syllabus ( Practical knowledge Also).
3.1 Exam Topics or Syllabus
The UiPath RPA Associate v1.0 Exam contains the following exam sections:
Robotic Process Automation (RPA) Fundamentals
UiPath Studio Overview
UiPath Studio – Variables and Arguments
UiPath Studio – Classic Selectors
UiPath Studio – Control Flow
UiPath Studio – Data Manipulation
UiPath Automation Concepts and Techniques
UiPath Orchestrator Overview
3.2 Recommended study materials
You can get all materials required for this certification without any cost at UiPath Academy. They even provide a free training course for those who are repeating this exam. You can easily access this link from UiPath RPA Associate Certification Training
Another way to get study materials is from UiPath Docs, which provides a complete document of the entire UiPath.
You can also ask your doubts in UiPath Forum and also learn by answering questions that have been asked by other people, which can help you to memorize your topics.
Additionally, you can also refer, to RPA Tutorials.
3.3 Tips for exam preparation
Start by studying fundamental RPA concepts, getting acquainted with UiPath Studio and its features, and building RPA models to gain practical experience.
Concentrating on UiPath Orchestrator management and troubleshooting, exploring the activities library, and developing debugging and troubleshooting skills.
Being familiar with fundamental programming concepts, utilizing UiPath Academy resources, interacting with online communities, and practicing.
To know more specific Exam Preparation tips, check here UiPath Certification Exam Tips
3.4 UiPath Academy training programs
To get an overall understanding of this certification UiPath provides a training course in UiPath Academy, which provides a syllabus and practice questions. You can just look through it by using the below link:
UiPath RPA Associate Certification Training
3.5 UiPath Associate Certification Practice Test
UiPath Provides a practice test for this exam you will be familiarized with the questions asked in the certification exam. You can refer below link to take a practice exam.
4. Benefits of UiPath Certified RPA Associate Certification
Undoubtedly, earning an UiPath Certified RPA Associate certification has several advantages.
4.1 Industry Recognition
The certificate attests to proficiency with UiPath's platform, elevating people's standing as experts in their industry.
It indicates a commitment to maintaining industry best practices and standards while learning new abilities.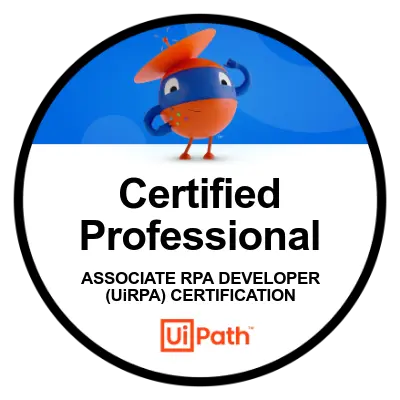 Gaining a UiPath Certified RPA Associate designation improves one's professional reputation and personal branding.
4.2 Career advancement opportunities
Having certificates gives you access to better jobs with greater salaries and promotions. For leadership positions requiring RPA installations, companies frequently favor or demand people to have particular skills.
As a result, having a formal certification demonstrates a dedication to professional development and teamwork, which encourages companies to look for certified associates for available jobs.
4.3 Skill development
Serious study and practical experience are required to prepare for the UiPath RPA Associate certification procedure.
Throughout the program, candidates must complete a variety of tasks that help them learn and apply UiPath RPA more effectively.
Continually honing these fundamental abilities boosts job satisfaction and gradually makes work simpler to handle.
4.4 Salary expectations
As was already noted, UiPath certification holders typically earn more money than individuals without official qualifications.
The region, firm size, job duties, market demand, education level, and years of experience all affect compensation, but certification is still an essential element. Depending on the area and position within an organization, average salaries are typically 7% to 10% more than the national median UiPath Certified RPA Associate salary.
Faq On UiPath RPA Associate Certificate Exam
What is the UiPath Certified RPA Associate exam?

.The UiPath Certified RPA Associate exam measures your proficiency in robotic process automation (RPA) knowledge and abilities. The exam is made to test your ability to recognize and categorize business processes that can be automated as well as to create straightforward automation solutions using UiPath platform tools including UiPath Studio, Orchestrator, and Robots.

How much does the UiPath Certified RPA Associate exam cost?

.The cost of the UiPath Certified RPA Associate exam is $150

How do I prepare for the UiPath Certified RPA Associate exam?

You can prepare for this exam by taking a UiPath Certified RPA Associate training course, Practicing with UiPath Studio and Orchestrator, Taking practice exams, Joining a study group, and Getting help from a mentor

What are the benefits of UiPath Certified RPA Associate certification?

.Increased job opportunities, Higher salary, More responsibility, and More career growth are the benefits of taking the aUiPath Certified RPA Associate v1.o exam.

How long is the UiPath Certified RPA Associate certification valid?

.The UiPath Certified RPA Associate certification is valid for lifelong. Till now there is no expiry date on this certification.

Can I retake the UiPath Certified RPA Associate exam if I fail?

.Yes, you can retake the UiPath Certified RPA Associate exam if you fail. But you have to pay exam fees of $150 on every attempt.
Conclusion
Till now we have discussed UiPath Certified RPA Associate (UIRPA) Certification in detail. By getting this certification you can become UiPath Certified RPA Developer. This can help with a career switch for a fresher.
If you have any queries or doubts regarding this, you can ask in the comment section. We will get back to you as soon as possible. Also, subscribe to our notification to get the latest updates.