Greetings! You've arrived at the warm and inviting doors of RPA Tutorials! I'm so excited to share our journey through the UiPath Tutorials series with you! But wait! Before we dive into the exciting world of automation, let's ensure you have the proper foundation in place. You can also check:
You see, every RPA tool requires its own software, and in our case, that's UiPath Studio Installation. Without it, our hands-on learning experience simply wouldn't be possible. And let's be real, isn't practical knowledge the best kind of knowledge? So, I'm here to guide you every step of the way on how you can install UiPath Studio on your system so that we can get started together!
Introduction to UiPath Installation
Excited to dive into the world of automation? UiPath Studio is the tool you've been searching for! This powerful RPA tool is the most widely used in the industry, and for good reason. Say goodbye to monotonous, repetitive tasks and hello to seamless automation. But first, let's get you set up with the installation guide.
Trust us, once you have UiPath Studio, you'll wonder how you ever lived without it. So, let's get started.
Table of Contents
What is UiPath Studio
UiPath Studio is an amazing software tool that helps you simplify your work life! Tired of doing the same repetitive tasks every day? Let UiPath Studio take care of it for you. With its visual interface, you can design workflows, automate boring and time-consuming tasks, and even integrate with other applications effortlessly.
Whether you're in finance, healthcare, or customer service, UiPath Studio has got you covered with its powerful RPA (Robotic Process Automation) solutions.
And the best part? You don't need to have any programming skills to use it. The drag-and-drop interface and pre-built activities make it a breeze for anyone to create automation solutions.
Say goodbye to frustration and hello to more time for the things you like.
System Requirements for UiPath Studio Installation
It's so important to make sure your system meets the uipath installation requirements before installing any software. Trust us, you'll thank yourself later! Making sure everything is in order beforehand ensures a smooth and problem-free experience while using the software
Hardware Requirements
UiPath Studio Hardware Requirements are:
| Requirements | Minimum | Recommended |
| --- | --- | --- |
| RAM | 4GB RAM | 8GB RAM |
| CPU Cores | 2 x 1.8 GHz 32-bit (x86) | 4 x 2.4 GHz 64-bit (x64) |
| Disk Space | 3.5 GB free on installation | N/A |
Software Requirements
UiPath Studio Software Requirements are:
Requirements
Versions
Operating system
➊ Windows 10
➋ Windows 8.1
➌ Windows 7
➍ Windows Server 2016
➎ Windows Server 2012 R2
(It should be 64 bit)
Web Browsers
➊ Google Chrome version 64 or greater
➋Microsoft Edge on Windows 10 version 1803 or greater
➌ Internet Explorer v8.0 or greater
➍ Mozilla Firefox version 52.0 or greater
.NET Framework
Version 4.6.1 or greater
Microsoft Office
➊ Office: 2019
➋ Office: 2016
➌ Office: 2013
➍ Office 365
How to Download UiPath Studio 2023
Before we dive into the download process, let's quickly go over the two versions available:
.The Community version is free for life with some limited features, while the Enterprise version offers premium features but comes at a cost. Don't worry, if you're not sure which version is right for you, UiPath offers a 60-day free trial so you can try it out before making a decision!
UiPath Studio Installer (uipathstudio.msi)
UiPath Studio MSI installer is your one-stop solution to install StudioX, Studio, Assistant, and Robot.
If your organization has already purchased the UiPath, you can use the Enterprise Edition of the installer. But if you're just starting out and want to try the platform for yourself, you can use the Community Edition of the UiPath installer (uipath.studiocommunity.msi).
Where can you find the installer? It's easily available for download from the Resource Center in the UiPath Automation Cloud or your customer success manager or support team can provide it to you. And if you're ready to take your automation to the next level, simply request a trial by visiting https://cloud.uipath.com/portal_/register.
By default, the installer used in UiPath studio is "UiPathStudio.msi" but for different licenses, it may differ such as:
| UiPath Studio Installer | Description |
| --- | --- |
| UiPathStudio.msi | It is obtained after getting or purchasing premises on the UiPath platform |
| UiPathStudioCloud.msi | It is obtained after getting or purchasing Automation Cloud |
| UiPathStudioOnPremTrial.msi | It is obtained after getting or purchasing a trial premises |
| UiPathStudioCloudTrial.msi | It is obtained after getting or purchasing a trial Automation Cloud |
Steps in UiPath Studio Installation 2023
Awesome, you've successfully downloaded UiPath Studio Community or Enterprise edition! Now, it's time to bring the magic of automation to your system.
Don't worry, we've already checked and ensured that your system meets all the necessary requirements so that you can enjoy a seamless installation experience and avoid any pesky errors.
Just follow the below steps:
1. Run UiPath Studio Installer
Once you have downloaded run the UiPath Studio Installer (UiPathStudio.msi) to launch the installation guide.
2. Select Quick or Custom Installation
A "Welcome to UiPath" titled installation wizard will be open to select Quick ( recommended for community users) or Custom (recommended for Enterprise/Advanced Users). You can choose anyone and accept the terms and conditions, then click on install.
3. Select Installation Mode
Now you have to "Select Install Mode". you have two install modes such as "Install for me only" and "Install for all users on this computer"
Option 1: Install just for yourself – This option is perfect for those who prefer to keep things simple and don't mind working with limited integrations. No administrator privileges are needed! The installation will be done in your personal profile folder.
Option 2: Install for everyone on your computer – This option will install UiPath Studio for all users on your computer and give you access to more integrations and unattended automation. However, you'll need administrator privileges to make this happen.
4. Choose the Installation Package
Now you have to "choose the installation package" according to your preference. The available packages are: Automation Developer, Attended Robot, and Unattended Robot.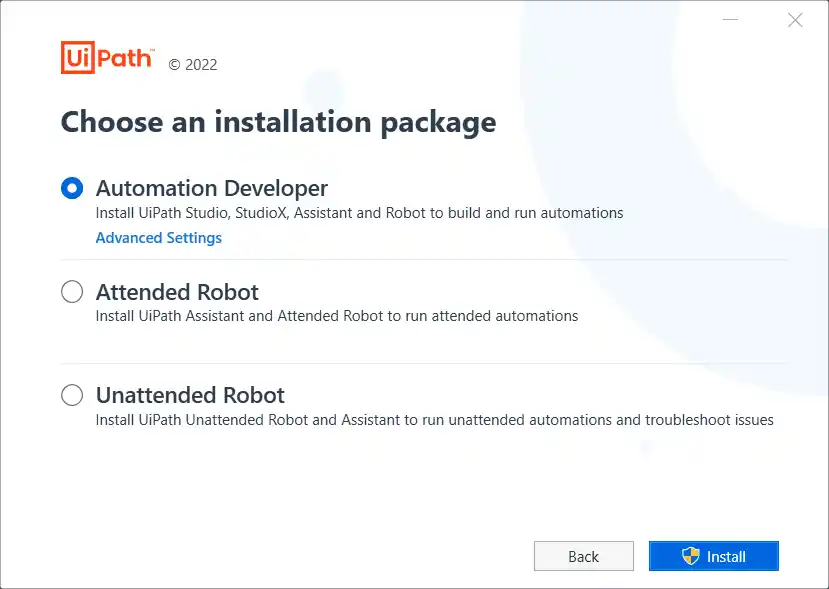 Option 1 (Automation Developer); The default installation package includes a variety of tools, such as Studio, StudioX, and Assistant, a user-friendly Robot, and more. If you have Microsoft Excel, you'll even get the StudioX Excel Add-in! And if you use Chrome or Edge Chromium, you'll love the seamless integration with the Chrome and Edge Chromium extensions. Plus, the included JavaScript Robot Add-on makes it even easier to streamline your work and automate daily tasks.
Option 2 (Attended Robot); The Attended Robot installation option comes equipped with both UiPath Assistant and Robot, making it super easy for you to run attended automation. Plus, you can even choose to automatically launch Assistant every time you turn on your computer.
Option 3 (Unattended Robot); The Unattended Robot installation option is perfect for you. This installation includes the UiPath Assistant and a service-mode Robot, allowing you to run unattended automation with ease. Imagine being able to automate your daily tasks without lifting a finger. All you have to do is install UiPath Studio, Assistant, and Robot and watch the magic unfold!
5. Start UiPath Studio Application
You have successfully installed UiPath on your system. Now, it's time to turn it on and experience the magic of UiPath Studio. Get ready to unleash your creativity and take automation to the next level. With UiPath Studio, you'll be able to create powerful automation processes that will skyrocket your productivity and make your work so much easier! So, let's get started!
UiPath Web Automation Extension
With UiPath extensions, you can supercharge your automation power like never before! Whether you're automating tasks on web browsers,
UiPath Studio extensions such as Java applications, Silverlight, or even Citrix Virtual Apps and Desktops, these extensions got you covered. They even work across remote desktop connections! The best part? UiPath extensions allow for the seamless detection of UI elements and you can do it right from the Studio.
Edge Browser
Edge Legacy
Chrome
Firefox
Java
Silverlight
Excel Add-in
Windows Remote Desktop
Citrix
UiPath Remote Runtime
VMware Horizon
SAP Solution Manager Plugin
How to install Uipath Extensions
Go to the Home Section
Select Tools and select UiPath Extension
To install the UiPath extension, click on the one which you need. Then select Install to install the extension you want.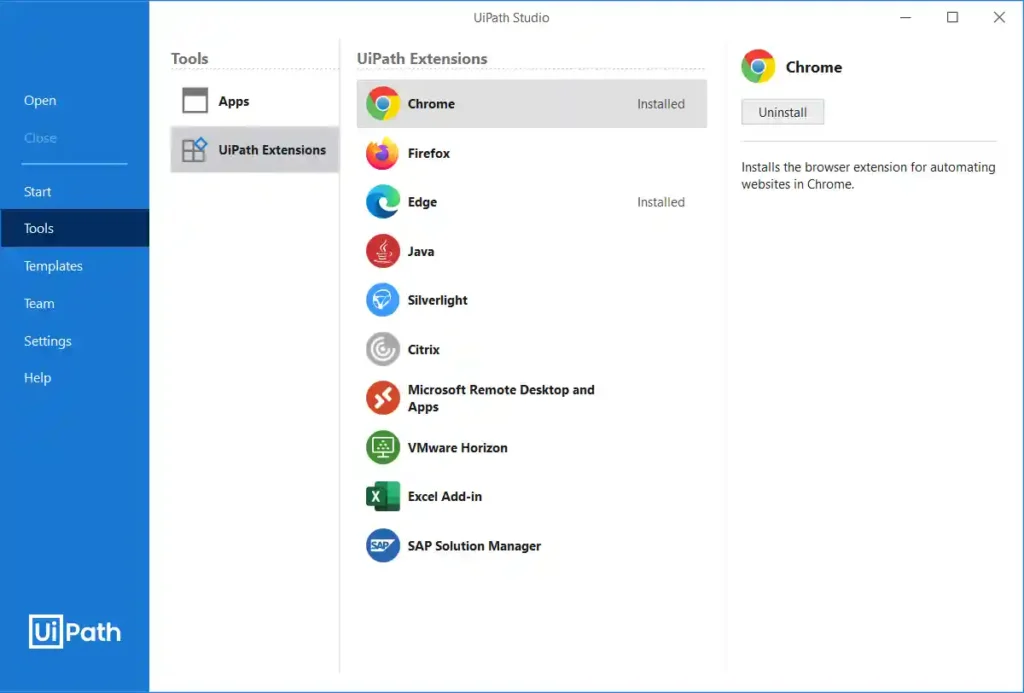 Conclusion
UiPath on your Windows system is simple to install. Just follow our simple steps and you'll be ready to go in no time. And don't worry, our guide works just as well for Mac and Linux users too!
With UiPath at your fingertips, you'll have access to an abundance of resources that will make your automation journey smoother and more enjoyable. So what are you waiting for? It's time to power up your computer and get started!
Faq on UiPath Studio Installation
How to install UiPath studio in Windows?
"To install UiPath on Windows, first go to the official UiPath website, create an account or log in to the UiPath cloud, then download the UiPath Studio Installer and finally, run the Installer (.UiPathStudio.msi)
How to set up a UiPath studio?

To set up UiPath Studio, first, download the installation file from the official website, then double-click the file to launch the installation process. Follow the on-screen instructions to complete the setup, and then open UiPath Studio and sign in or create a new account. This will give you access to all the tools you need to start automating your routine tasks with UiPath Studio.